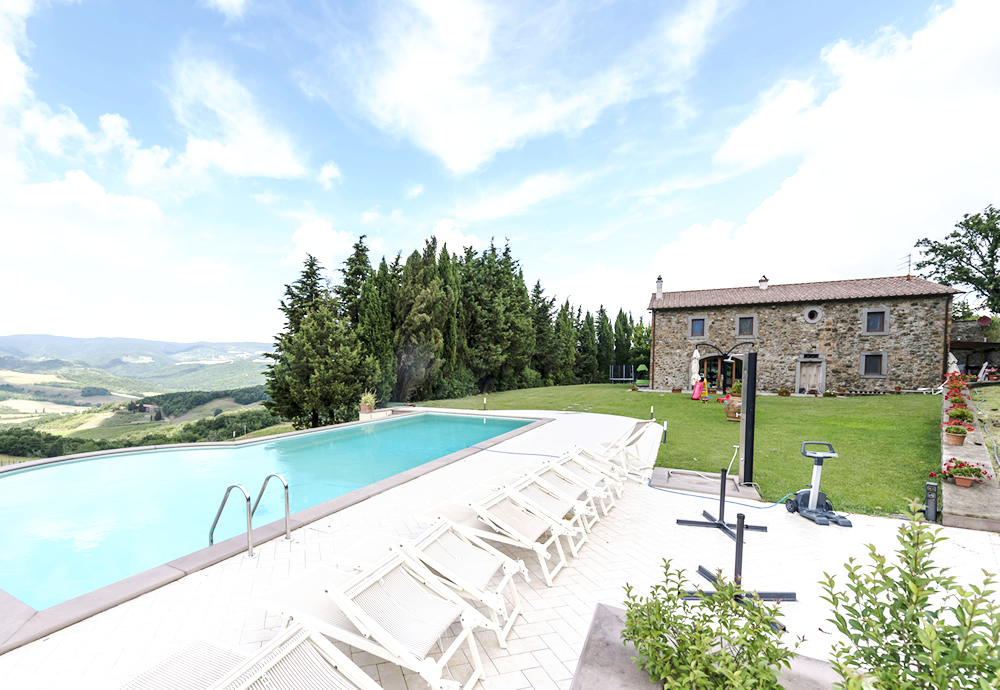 Bedrooms
10
Bathrooms
10
Living Area
1520 m²
Garden / Land
2260000 m²
Other
Private land 260 hectares, 5 hectares vineyards
Stunning farmhouse with swimming pool and wine farm near Lajatico, Tuscany Coast
MDI_AZ43
In the Lajatico countryside, a small village in the heart of Tuscany, for sale vine-farm a few steps from Pietracassia Fortress.
Lajatico is known internationally and in America especially because is Andrea Bocelli's place of birth, the worldwide famous lyric singer who each year has his annual concert nearby the Theatre of the Silence, an amazing natural amphitheatre among Lajatico sweet and rolling hills. Lajatico furthermore boasts a central and strategic location as it is only 45 minutes drive from the closest beaches and Pisa international airport; the closest train station and motorway are 20 minutes drive and in a hour and a half it is possible to reach the most attractive cities such as Florence, Lucca, Siena and Versilia.
The farm can be reached by driving a 6 km road from Lajatico whose 2 km are tarmac and 4 km dirt road. The farm consists of a 1200 sqm building on two storey which has been left unfinished and where an authorized project insists for the creation of 12 units (holidays rentals). The water has been already brought there.
Lajatico council authorities have also approved the construction of a 900 sqm cellar and a 250 agricultural barn/hayshed.
The farm is set within 226 ha of land whose only 80 have been fenced and precisely: 5 ha of vineyard (Red San Giovese); 220 ha wood, 0,5 ha olive groove and 0,5 ha fruit trees
It is possible to combine the purchase of a lovely typical Tuscan style farmhouse with swimming pool, set in a dominant position and boasting a breathtaking panoramic view over the surrounding countryside  and Pietracassia Fortress.
It is a 320 sqm two storey villa and on the ground floor it consists of: a double lounge, kitchen, box-room, boiler room and a lovely loggia where it is possible to enjoy  outdoor meals and annexed laundry. An internal staircase leads to the first floor which comprises: en-suite master bedroom, studio, kitchen and walk-in closet and further 4 en-suite bedrooms. Heating is with wood burning stove and Lpg.
Well-kept garden with panoramic swimming pool and solarium.
Gallery (click photos to enlarge)
Contact the Agent (1)
This contact form was created with Gravity Forms in combination with the WPCasa Gravity Forms add-on.