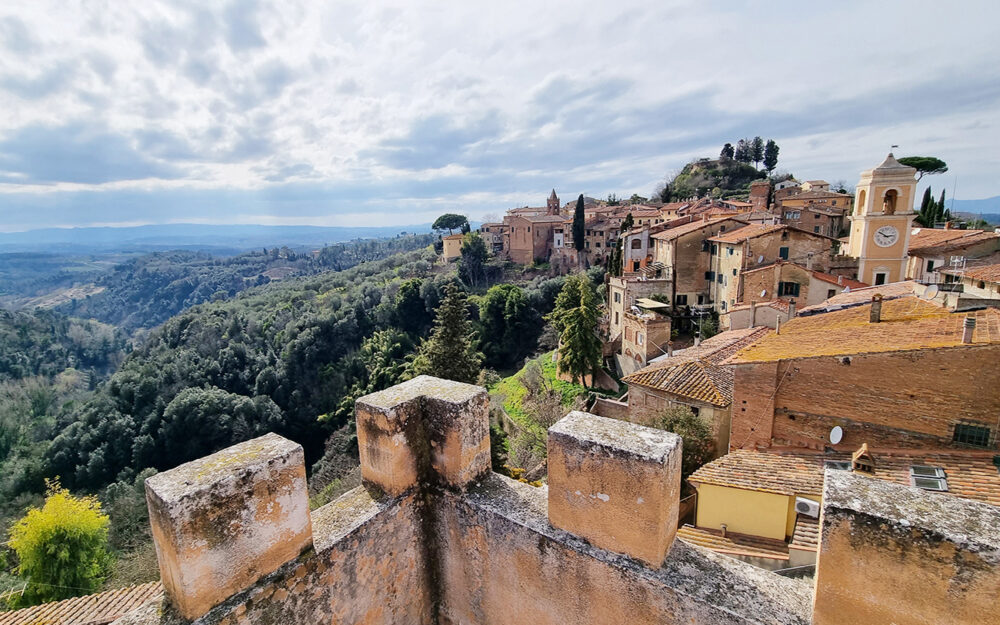 Bedrooms
3
Bathrooms
2
Living Area
113 m²
Garden / Land
Communal garden m²
Other
Swimming pool, private watch tower
This property is currently not available.
AMAZING 2+1 BDR APARTMENT WITH PANORAMIC TOWER, SWIMMING POOL, PALAIA, PISA, TUSCANY
MDI_P102
This unique property lies on the top floor of a restored palace within the city walls of Palaia, among the South Pisa hills, and although comes with staggering views on the country side and a panoramic swimming pool, it is within a village context with all amenities within walking distance.
The noble palace was lovingly and meticulously restores in the early 2000,thus creating 4 independent apartments, sharing a communal court and garden with south facing panoramic swimming pool; towards Castefalfi and Volterra.
The 2 bedroom plus studio room apartment we are presenting is not only very well appointed and with excellent finishes, but is also comes with a stunning private tower with 360 degrees view on the whole of Palaia, and the surrounding country side, an uninterrupted view without equals. Here the actual owners have set out dining table and chairs, we can only but imagine the wonderful moments they have enjoyed the unobstructed views while sipping some delightful Super Tuscan wine!
The palace is accessed by an internal courtyard from the street side, and a communal staircase joins the various apartments, this one sharing the top floor with another unit.
The apartment measures 113 square meters, with most of the accommodation on the same floor, so divided: entrance directly onto the spacious living room/dining room with large windows with beautiful unobstructed views over the country side, thus giving plenty of natural light throughout; an open plan but almost separate kitchen, also with own window with views. The living room avail of a double hight ceiling thus increasing the sense of space. A corridor leads to the main sleeping area, with the master bedroom, a twin bedroom, both same size, and a well appointed bathroom with shower.
Back in the living room, a wrought iron staircase leads to the mezzanine where there is a bathroom with shower, while the original stone and bricks staircase leads to a studio or third bedroom, once more with beautiful views and plenty of natural light.
From here we access the magnificent tower: a door leads onto an external staircase which brings you to this 360 degrees tower with battlements, you really feel like to lord of the mansion from here! The hights allows you to view the rest of Palaia's red tiled roof, and beyond the magnificent Tuscan country side, what a treat!
The apartment is characterised throughout by original features, like terracotta tiled floors, terracotta tiled ceilings with chestnut beams, original stone stairs, while at the same time offering more comfortable features such as gas central heating and air conditioning, which in Tuscan cannot be given for granted as there are many conservation rules which often do not allow for such comforts to be installed.
Complete the property the communal landscaped garden and the swimming pool, the latter not being a large one, but enough for refreshing while sun bathing. There is plenty of public parking in the square just outside the main entrance.
This being a 4 unit property, it offers adequate privacy, while at the same time represents a safe environment while located in the village centre, the main square just a few meters away, with all the services a village can offer, like shops, restaurants and cafes.
Ideal for both a long and short stays, it can be either your new residence in Tuscany, or a temporary refuge while availing of tourist rental to generate income when not there.
Palaia itself is also easily accessible and allows you to be anywhere in Tuscany within easy reach.
For non-Italian residents, it is important that the property, well located, can be easily serviced, and there is plenty of available support to make it a hassle free investment.
MAIN DISTANCES
Castelfalfi Golf Club: 15 km; Lajatico: 23 km; Volterra: 35 km; Livorno (seaside): 50 km; Florence: 65 km; Pisa International Airport: 40 km.
MAIN DETAILS
| | |
| --- | --- |
| Annual expense: TBD | Floor: 2 |
| Smq: 113 | Orientation: North/South |
| Grade: TBD | Free Sides: 3 |
| Furnishings: Unfurnished | Bedrooms: 2+1 |
| Kitchen: Separate | Bathrooms: 2 |
| Heating: Central heating and A/C | Swimming pool: Yes, shared |
| Property state: Excellent | Landscape: Country side views |
Gallery (click photos to enlarge)
The location on the map is accurate although not the exact address of the property for privacy reasons. Please contact us for detailed information, thank you.
Contact the Agent (1)
This contact form was created with Gravity Forms in combination with the WPCasa Gravity Forms add-on.